Sunday, November 06, 2005

Last night I went out to a nice dinner, my date started the night off right with some pretty Gerber Daisies.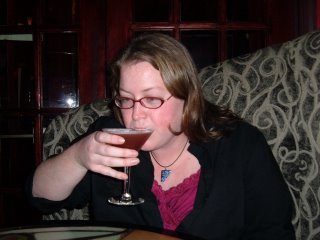 We took a cab down to Old City, and since the SEPTA situation is so shitty lately, we were afraid it was going to take forever, but we got a cab in like under 10 minutes, and the ride was quick. We had some time to kill before dinner, so we walked around the city a bit, and then stopped in to Charlie's Pub. I thought it was going to be kind of low key, but I had somehow forgotten where I was, because nothing is relaxed and low key on 3rd and Arch, so it was a little too bourgeoisie for me. I still had a great martini (pictured below) that raspberry flavored and had some Razzles candy in it. I also had two Magic Hat #9's. Yummy.


We were so hungry by the time we got to Chloe and ordered starters that we devoured them before I had time to take the picture. But we shared a baked feta cheese with tomatoes and pepperoncini and a lobster strudel with an orange burre blanc. Wicked. Sorry for the lack of photographic evidence. I did remember the camera when the main courses arrived. Here is my seared scallops with baby greens on a potato pancake.


This is Lindsey, our waitress extraordinaire!


And lastly, the cornmeal and crab stuffed trout with garlic spinach and roasted tomato coulis. Oh-my-god!
The food at Chloe is awesome, the owners/chefs, Dan and Marianne are also outrageously funny and friendly people. The restaurant is reasonably priced for the quality of the food, the ambiance is nice, the whole place only seats 32, and cash only, but it's a BYO, so do like I did and bring a nice big bottle of Shiraz and drink it all.
If you go, chat with host, he's a laugh. I think we made plans to watch the new Family Guy movie together. I had so much wine this is completely possible or completely made up.

Later that night, Alison and I had a few drinks with the staff at Chloe and then shared a drunken cab ride home.

Fine
2 Comments:
10:12 AM

 

I totally need to come visit you! Let's hope for within the year, right? :) Your blog is such a highlight in some of my days here at the office...thank you!
I miss you so so much. I'll be thinking of ya lots tonight at "Stitch and Bitch". I'll knit a row just for you.
love ya

Solid1 said...

4:47 PM

 

I like your style and the overall feel of your blog. You have a winner with "foodadelphia". Good luck and hope to see you around.